About Magic Matt Kelly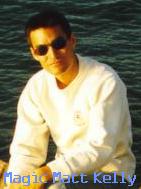 Okay, so you want to know about Matt's musical interests.... DJ Magic Matt Kelly is a dance music beatmixing DJ focusing on Chicago and Progressive House music. He also spins hard house, techno, underground and some trance and freestyle. Matt got his start like most DJ's, starting off at experimenting at home and in high school DJ'ing high school dances, spinning the likes of stuff like Janet Jackson, Prince, and Billy Idol tunes.... a wide variety that was necessary to learn how to properly work crowds and connect with them. He has focused on beatmixing dance music since 1992, and is constantly polishing his turntable and mixing skills. He's done a few local stints in clubs around northern Indiana and has always been available for parties, but lately has concentrated on producing partymix recordings.


Early tunes that influenced Matt's music tastes and direction include Big Fun by Inner City, New York by MCL, and Bizarre Love Triangle by New Order... some of Matt's other influences come from legendary Chicago-based mixmasters, like Bad Boy Bill, Jumpin' Julian Perez, Bobby D, Mike "Hitman" Wilson, and Steve "Silk" Hurley.

A few other names of note in the dance music world that are important to Matt include Kevin "Master Reese" Saunderson (one of the founding fathers of Techno), Todd Terry, Junior Vasquez, Armand Van Helden, and David Morales. And of course, no DJ would ever forget David Cole and Robert Clivilles of the C & C Music Factory. And if you ever happen to find yourself in the Chicagoland area, be sure to catch Matt's favorite music on his favorite radio station... Chicago's Dance Beat, B96 (96.3 on your FM radio). And some shouts going out to Magic Matt Kelly's DJ buddies.... first and foremost, his partner in kryme, Jammin' Joey B, JP "Jammin" Preston at Crackers Nite Club in Indiana, and DJ Damood!